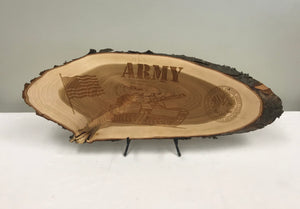 Army Wood Plaque - Army Gift - Army Personalized Gift
Regular price $80.00 Sale
This wood plaque honors those who have served our country in the United States Army.  Great gift idea!  Want a plaque personalized?  Just contact us at 989-709-6477 or info@janishwoodworks.com.  We can add names, rank, years of service etc. to make a very special personalized gift.
Wood Species: Black willow
Length:  23.5"
Width:  7.5"
Thickness: 3/4"
*There is a keyhole slot on the back for hanging on wall if desired
*Finished with a clear coat of conversion varnish.
#military gift #army gift #military retirement gift